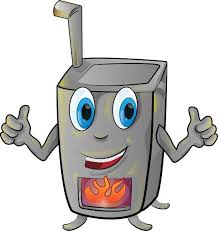 Top Tips on caring and maintaining your solid fuel appliance
Below are top tips to consider on caring and maintaining your solid fuel appliance:
1. Ash and Soot removal
Before you begin using your heating appliance more regularly, ensure that you clean any remaining ash, soot and debris from the inside of your heating appliance.
2. Check internal parts
Check your appliance regularly
Check your appliance regularly
Check the internal parts of your stove for damage and obvious build up of soot, ash or debris, paying particular attention to the firebricks, glass and rope seals. Replace any damaged components using genuine replacement parts before re-using the appliance. You can visit Ryan Stoves to seek advice on the appropriate parts for your appliance. it is important that you have your appliance's serial number available which will allow you to identify the specific model and which suitable parts you may require.
3. Check debris above the flue baffle(s)
If there are any signs of a build up of debris above the flue baffle (s) (these can be found in the upper part of the firebox and use a torch if necessary – you can find details of how to remove and inspect the baffle system in your product instructions), follow the recommendations below:
a. Arrange for the chimney to be swept. Below are the top tips for chimney sweeping:
The best time to have your chimney swept is before you start using your heating appliance more regularly (often before the start of the autumn/winter period.).
To maintain safe and efficient use of the appliance, the chimney/flue must be inspected and swept at least once a year by a qualified chimney sweep. If the appliance is used continuously through the year, or it is used solely to burn wood, more frequent sweeping is recommended.
Please take note to regularly clean your chimney, any connecting flue pipe and the appliance flue ways. Ensure adequate access for cleaning is available where it is not possible to sweep through the chimney. If the chimney is believed to have previously served an open fire, it must be swept a second time within a month of regular use after installation.
We recommend that you use approved chimney sweepers.
Always use approved installers
b. Remove the baffles and clear the debris.
Do not use your stove with damaged baffles or without the baffles being fitted.
4. Refresh your appliance's paint finish
To touch up your stove finish from minor scratches and blemishes, you can purchase our touch up spray paint, which is available to buy from your Ryan Stoves. Before you proceed with this, it is important to speak to Ryan Stoves for further advice and information and you should quote the serial number found on the appliance's data badge. It is also important to note that we do not recommend that you use a touch spray paint for enamel appliances.
5. Clean window glass
Before you proceed to clean your window glass, it is important that you do not clean it whilst it's hot. Ensure that you allow your appliance to cool down completely before undertaking additional cleaning. Before applying a cleaning agent, remove any dust and loose soot with a damp cloth.
For appliances with printed glass, it is best to use Glass Cleaner which has been formulated specifically for cleaning this type of stove glass. This cleaner does not contain a high alkaline or acidic content which could damage the printed glass surface.
6. Stove Care
Ryan Stoves has a wide range of cleaning & maintenance products and accessories to keep your appliance in good working order. By visiting our accessories section on the website,
Ryan Stoves can also advise you on suitable items for your stove and provide genuine spare parts such as door sealing rope, firebricks, cleaners and sealants.